Valentine's Day: Fun vs. Forced
By afrett | Posted in Uncategorized on Tuesday, February 6th, 2018 at 9:27 pm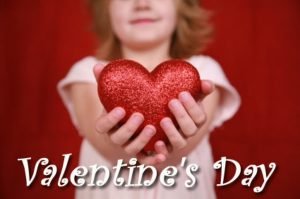 Val·en·tine's Day
NOUN
the Christian feast day of St. Valentine and the traditional day for sending a romantic card or gift, especially anonymously, to somebody you love.
It all makes sense now! I don't who else remembers this but in elementary school, the teachers would take a day prior to Valentines Day to have the class make cute folders, boxes or envelopes for the super fun and candy filled Valentines Day party. I remember you had a choice as to whether you'd address your cards to your classmate or remain anonymous and then walk around the class room putting one in each of your classmates handmade valentine holder. It was one of the most anticipated days of the school year. There was always one or two cards that were received that remained unknown as to who had a crush on who. Little did we know we were upholding a tradition that was centuries old.
Some people view February 14th as a retail holiday devised by marketers to sell flowers, candy and jewelry… and they have done a good job! The National Retail Federation says Americans will shell out $18.2 billion on the holiday. Even Valentine humbugs can find it in their hearts to have some fun by trying different ways to celebrate the day, whether you're comfortably coupled or splendidly single, here are a few ideas…
Gather up other singles or take your Honey and go catch a movie! Don't be disgruntled because you're single, that day will come that you consult with a significant other about basic decisions so take
advantage now! You're free and clear to do as you please and still have a great time doing it with a group of friends.
Have dinner and great conversation with your group of peeps. It can be a sense of relief having no pressure to act a certain way to impress or the pressure of an awkward goodbye at the end of the evening.
Try new things! New recipes, desserts, restaurants, wineries ect… Be spontaneous and take a day trip to a place you or your spouse haven't been to. Exploring the unknown is half of the adventure in a relationship. Start small and try something you normally wouldn't. Even if it's a disaster, it'll make a memorable one!
Indulge yourself in a pampered evening. Whether it be a spa day or a bubble bath at home, make it count. You deserve it.
Spread kindness and love around, start an epidemic! Studies have shown that Kindness spreads, let it start with you. Give candy or cards to the people in your life, friends, family, co-workers or even your favorite barista.
These are things that everyone can enjoy, couples, singles or groups of besties.
And for those of us who aren't alone on this "holiday", it's not about how much you spend on the one you love but more the gesture of kindness, love and appreciation. It's a day to be creative in doing so. Think outside the heart shaped box of chocolates and the color red that coats the grocery stores. The meaning of love can be expressed in so many different ways without breaking the bank. Thank goodness for the internet because you can Google or Pinterest creative and inexpensive ideas that are sure to make your person feel important and loved. Some of the best gifts are the ones that cost the least but come from the heart. BUT chocolate is sort of a staple and chocolate dipped strawberries are pretty amazing too. They're really easy to make and can be half the fun when making them together. There are so many ways to keep the romance alive in relationships and why not take advantage of a day that is set out to encourage just that. It's all about taking time out to spend with the one you love and if you don't have that person yet, maybe it's a day love might find you!
                                                                                                                                From Steve Hahns Auto Group